What Are OEM Parts and Why Are They Better?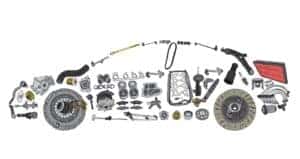 At Moritz Chrisler Dodge Jeep® RAM, our customers expect that the car they buy will run reliably and safely for years to come. And our RAM dealers are confident they will because our cars and SUVs are built to last. That said, even the most expertly engineered vehicle will probably need a new part or two over the course of its lifespan. Our Jeep service center is available to fix or replace parts when they wear down. Furthermore, we only use high-quality OEM auto parts because we believe they're the best on the market.
Our service technicians take pride in performing every job correctly the first time. This is why our fully stocked parts department relies on original equipment manufacturer (OEM) auto parts. Genuine OEM parts come directly from brand manufacturers, rather than third-party dealers. As a result, these new parts fit your vehicle much better, and their durability is practically unmatched in the industry. What this means for our customers is that their parts will last longer and won't need to be repaired or replaced as frequently. Genuine OEM auto parts can also improve the efficiency, safety, and performance of your car.
Another reason why we love offering OEM parts is that it takes all of the stress out of shopping for new parts. If you visit our website, you're able to order your auto parts in advance online. When customers already know that the parts we stock are the very best, there's no reason to research competing brands or comparison shop. Simply enter some information about your car's year and model, and we can easily find the perfect OEM part for you.
So the next time you need a new auto part, visit us at Moritz Chrysler Dodge Jeep RAM. You can be confident that every OEM part we sell is top-of-the-line.