Types of Tire Service and Why It's Important in the Arlington, TX Area
Tires are one of the most vital parts of any vehicle and it is important that they are in good working order at all times. Your tires are designed to last but over time, normal wear and tear will occur. Practicing proper tire care will not only keep you safe,  but will also help you get the most out of your driving experience.
There are several things you can do to prolong the life of your tires. We recommend that you check the tire pressure monthly, have your tires rotated regularly, and have an overall vehicle maintenance checkup performed. Your Jeep® dealer near me in Fort Worth, TX has an expert service center. If you require any type of service, you can count on us for quick and reliable car care.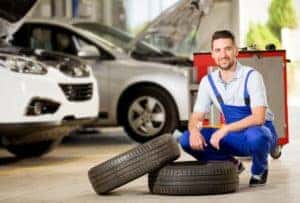 The Tire Services We Offer
The Dodge service center at our car dealership serving Arlington, TX is ready to help you with all of your tire needs. Our experts know their way around tires, especially when it comes to matching your vehicle, like the RAM 1500 or Jeep Wrangler, to the correct tires it was engineered to have. We offer a complete range of tire services, from tire installation to puncture repair.
If you do need new tires, our service center provides a thorough tire evaluation to determine which tires are best suited for each vehicle. We have an extensive inventory of tire options and our experts will help select the right tires to match your vehicle and driving style.
Keeping your wheels balanced will help maintain a smooth ride and will reduce the stress on your tires and suspension system. Using computerized machines, our technicians can precisely align your tires. We recommend scheduling an alignment if you get new tires, rims or wheels, feel your vehicle pulling or drifting, or have one tire more worn out than the other.
Just as you schedule regular oil changes, you should schedule a regular tire rotation. It is recommended that you have a tire rotation service about every 6,000 to 8,000 miles.
Our Jeep dealership in Fort Worth, TX looks forward to helping you with all of your Chrysler, Dodge, Jeep, and RAM vehicle needs. When the time comes for new tires, you can trust the expert service and parts department at Moritz Chrysler Jeep Dodge RAM.